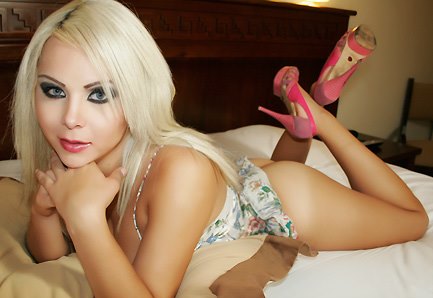 Hello boys! My name is Afrika Kampos, and I am a 20 year old shemale (ask me to see my ID, and I'll prove you my age :). I was born in Mexico under the sign of Libra from a Scandinavian mom and a Mexican dad, and as a result, I have naturally blond hair and blue eyes, plus all the heat and sexual desire of the tropics!
Other than having a penis between my long legs, I am a pretty normal girl. I stand 5'8", have supple 38DD breasts with big nipples, and a round butt. My penis is a generous 8 inches and it is fully funcional. I am versatyle, being both active and passive, and will accommodate to your liking, always respecting your personal boundaries and being as tender and patient as any girl could be, even in the heat of passion.
When I'm not doing naughty things on or off video, I like cooking, playing tennis and as the very feminine transgirl that I am, beautifying myself. I love going to the beauty parlor, and come out looking sexy and beautiful, right before getting dirty in my sex movies ;)
I have been doing lots of sexual things in the recent past, but this is the first time that I make porn videos. At first I was nervous but it's actually quite exciting after you get over the jitters. I really hope that you and I can become friends and why not, I hope that you become my member, so I can share all my XXX stuff with you!